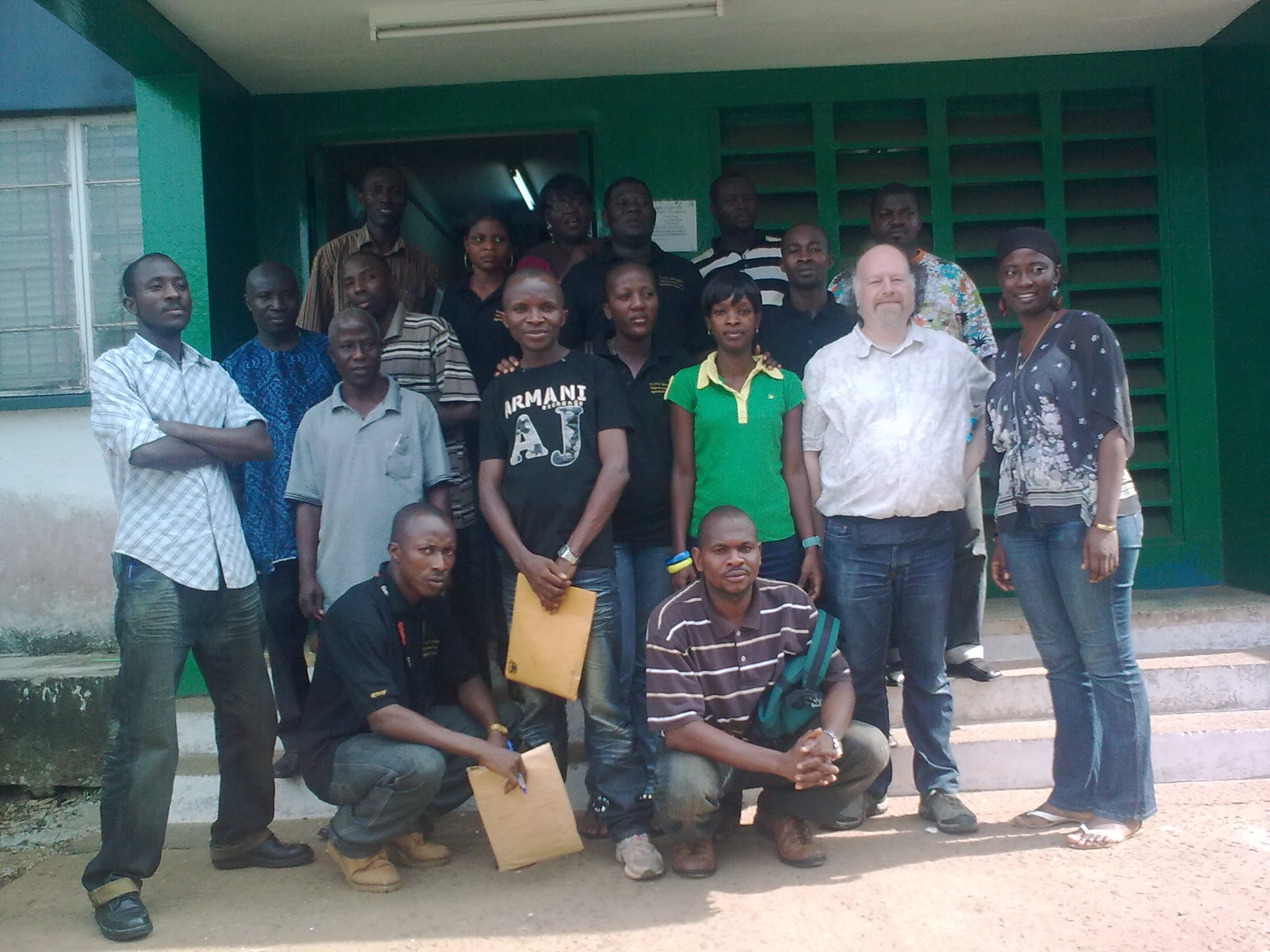 International
I have been very lucky to have had the opportunity to work in a number of different countries. This has given me very valuable experience and has enabled me to develop very good people skills. In any one overseas project you may be required to:
Order materials and equipment
Carry out tailor-made training
Motivate staff
Work long hours
Meet with politicians and funding agencies
Be diplomatic
These experiences have enabled me to make some very good friendships with colleagues - and to learn so much more about how others struggle to run archive services in hostile climates.
International experience
| | |
| --- | --- |
| 1994 | Carried out a study tour of the conservation workshops and preservation provision provided by the National Archives and National Library of Hungary in Budapest. |
| 1994 | Visited the city of Krakow, Poland to carry out a study tour of the archive collections, and liaison with conservators as part of a departmental exchange with Berkshire Library Service. |
| 1995 | Three week consultancy visit to Vietnam to carry out a two week training course for Vietnamese archivists in Preservation and Conservation in Hanoi. Study visit to Ho Chi Minh City to visit archives. Funded by the Judy Segal Trust. |
| 1996 | One week consultancy mission to National Archives and Documentation Service in Kenya on conservation and preservation policy; to provide guidance and training to staff. |
| 1997 | Organised visit timetable and funding for two Vietnamese archivists to attend Society of Archivists 50th anniversary conference in London. |
| 1998 - 2000 | Three consultancy missions to the National Archives of Uganda to assess conservation and preservation needs, design conservation workshop, equip and set-up conservation workshop and train staff. All missions resulted in written reports. Funded by DANIDA. |
| 2001 | Two consultancy missions, commissioned by the International Records Management Trust, to the National Archives of The Gambia to assess conservation and preservation needs and run a training workshop. All missions resulted in written reports. |
| 2008 | Development of a Strategy for the Preservation and Conservation of the Historical Archives of Macao. |
| 2010 | 3 day training seminar to teach the Preservation of Paper as part of a programme of training courses for archivists and records managers from the National Archives and Special Court of Sierra Leone. |
| 2017 | 'Archives at Risk' Project, mission to Caribbean island of Grenada 13th-17th February, 2017 ; teaching on disaster management and training of specialist team for archival preservation surveys. |
International Conferences:
Delivered papers to the following international conferences:
International Council on Archives; conference on Municipal Archives, May 1994, Budapest, Hungary
International Council on Archives; Preservation of Archives in Tropical Climates, 17th - 21st November 2003, Curacao, Netherlands Antilles
University of Ulster, Historic Libraries in Context, 7th - 8th June 2011, Derry, Northern Ireland
International Council on Archives; CITRA - Keeping Archives Alive in a Digital World: Archival Preservation in the 21st Century, 26th - 27th October 2011, Toledo, Spain
Regional Archives Maribor; Technical and field related problems of traditional and electronic archiving, 15th - 17th April 2015, Radenci, Slovenia
International Council on Archives; Annual conference, 27th - 29th September 2015, Reykjavik, Iceland
International Council on Archives; International Congress, 5th-10th September, 2016, Seoul, South Korea
The International Institute for Archival Science of Trieste and Maribor; International Archival Day, Trieste, Italy; 2015-2017
International Council on Archives; Annual conference, 27th – 29th November 2017, Mexico City, Mexico
International Council on Archives; Annual conference, 24th – 26th November 2018, Yaounde, Cameroon
Publications
The Institute of Paper Conservation

Conservation facilities in the city of Krakow, Paper Conservation News; number 73, March 1995

Society of Archivists

A conservator in Budapest, Journal, Volume 16, number 1, Spring 1995

International Council on Archives

The role of Conservation and Preservation in the archives of developing countries: observations based on missions to Kenya, Uganda and Vietnam, ICA, Archivum (annual Journal), Vol. XLIV, 1999

Association of Commonwealth Archivists and Records Managers

The National Archives of Uganda Conservation and Preservation Project, ACARM Newsletter; Issue 24, March 2000

National Preservation Office

The National Archives of Uganda, NPO Journal, Issue 7, October 2000

Association of Commonwealth Archivists and Records Managers and London Metropolitan Archives

Conservation and Preservation activities in archives and libraries in developing countries: An advisory guideline on policy and planning, ACARM & LMA, November 2000

IFLA/PAC

National Archives of Uganda: Determination is all that it takes, International Preservation News, No. 22-23, August - December 2000